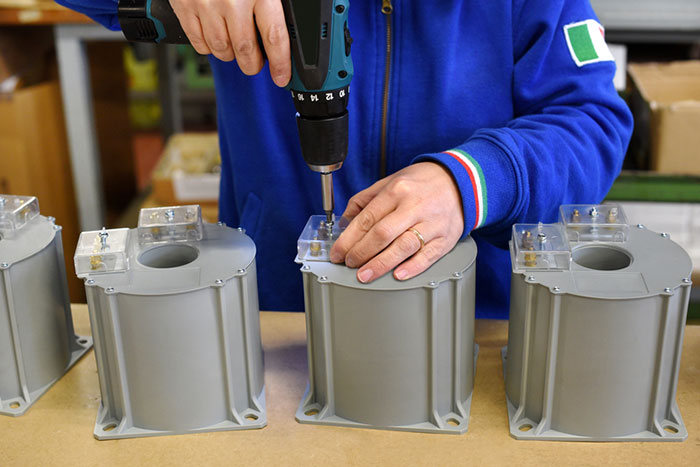 The Pilot Production Phase is the beginning of the end of product development. Pilot Production is just a step away from contract manufacturing and is used at the end of engineering development during new product introduction to test new methods, production processes, and systems under quality controls. Pilot builds are generally conducted in small quantities to convert a final design prototype to an assembly line. Pilot build units are "production quality" but on a smaller scale to minimize risk before heading straight into a production environment. Here are a few tips to help make the transition as smooth as possible when heading into pilot production.
Everything in a pilot production build needs to be under revision control. Be sure to understand the process flow and how to operate within its confines. It is necessary that you clearly understand your standard operating procedures (SOPs). These define how components move through your process from receiving, to inspection, to release to the production floor, and finally to shipping. Make sure you have a quality plan which is a set of standards, practices, resources, specifications, and sequence of activities for that production line. Depending on the production line, in-line and end-of-line tests may be required. Lot travelers for operations requiring verification or inspection that are not easily detectable in the final product may also be required. Pilot builds are the perfect time to understand and refine those requirements.
Maintain multi-disciplinary team coordination
There will likely be hiccups during the pilot phase, such as identifying the need for additional fixtures or even a design change. In this case, product development may be moving between inter-disciplinary teams. Remember to stay connected and maintain communication with all the teams involved in your company's process flow. Open communication will keep the product's delivery date on schedule and the flow as smooth as possible.
There are a lot of moving parts during pilot builds. Be sure to organize and label your inventory correctly. Design changes may alter your pilot build. In those cases, properly quarantine and scrap part inventory that is no longer applicable. Pilot builds can require full traceability of components. It is best to bring only the necessary amount to the production floor to prevent the potential loss of parts. Proper labeling techniques will allow the production team to differentiate between lots of the same component, released, and received parts.
Ensure that your team has the proper training to complete tasks. It is helpful to maintain a training log to provide to regulatory agencies during quality audits as it shows you are maintaining compliance with your quality plan. Training your team improves employee performance and saves labor, allowing tasks performed with the highest level of quality in a minimum amount of time. It also reduces the amount of time and administrative costs of a supervisor monitoring and guiding employees. Once your production line grows, it will help you understand each employee's best attributes, allowing you to place them where they will be cost and time-effective. Finally, keep your team motivated and inspired by sharing short-term and long-term goals to ensure action. Make sure your goals are SMART (specific, measurable, achievable, relevant, and time-bound). After all, the final goal is to deliver the best quality product possible.
Pilot Production is the best way to identify failure modes and production issues before converting to large-scale production. During large-scale production, subtle issues not identified early can have a large-scale impact on the schedule, cost, and quality of your product. If failure modes do arise, take proper action by initiating Corrective Action Plans and following them through. By any means, DO NOT simply rework parts on the line to get them out the door. When you take the time to do the quality paperwork correctly, your pilot production build will thrive.
Is your project ready for manufacturing?
Speak with one of our experts and get answers to all your project questions.
About Synectic Product Development: Synectic Product Development is an ISO 13485 compliant, full-scale product development company. Vertically integrated within the Mack Group, our capabilities allow us to take your design from concept all the way to production. With over 40 years of experience in design, development, and manufacturing, we strive for ingenuity, cost-effectiveness, and aesthetics in our designs.  Learn more about our manufacturing services and see how we can help your next project.