High volume additive manufacturing through our sister company Mack Prototype
3D PRINTING AT MACK PROTOTYPE SAVES YOU TIME AND MONEY
With 3D printing, you can make design changes quickly, easily, and cheaper than with traditional prototyping methods. Our in-house 3d printing capabilities allow us to make design changes on the fly and have parts ready for testing within a few hours.
We offer the latest 3D printing technology giving you multiple options depending on your project needs. Our team will review the part requirements and supply the best solution based on your budget, timeline, quantity, material, finish, and quality requirements.
As a part of Mack Group, Synectic has the resources and internal network necessary for rapidly scaling designs from prototype development to production. With our vertical integration model, you get collaboration between companies benefiting you by:
Keeping your project, including design, prototyping, and manufacturing, in one place.
Producing products quicker without costly overhead.
Reducing issues seen with traditional design transfers by 95%.
Under our direction, Mack Prototype will handle your 3d printing and low-volume plastic injection molding for assembly at Synectic's new product introduction area. As you scale up and graduate to high-volume production, we will be with you every step of the way as your product gently transfers to one of Mack Molding's manufacturing facilities.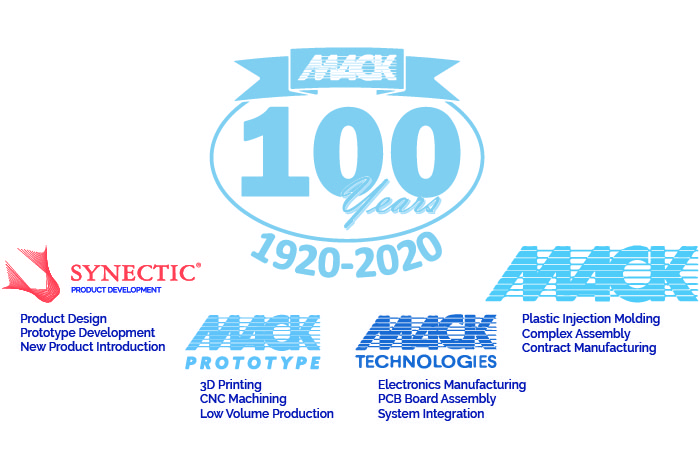 CUTTING EDGE 3D PRINTING TECHNOLOGIES
WHY SYNECTIC AND MACK PROTOTYPE
REDUCE COSTS WITH 3D PRINTING
Case study about how Synectic and Mack Prototype reduce prototype costs using 3D printing.
3D PRINTING TECHNOLOGY SPEC OVERVIEW
Technical specifications of the 3D printing technologies available at Mack Prototype and Synectic.
HOW TO DESIGN FOR 3D PRINTING
This white paper covers the most common considerations when designing for 3D printing.