Product Development Brought to
LIFE
Why Synectic Product Development
WE GET YOUR PRODUCT TO MARKET FASTER
Synectic is a Connecticut based product development company that can bring your new product to market 20% quicker than the typical design house. Using our step-by-step product development process your product moves from product design to prototype development and finally new product introduction before seamlessly transferring to our larger contract manufacturing facilities. The result is a product that can be taken from design to manufacturing without the increased costs and headaches associated with traditional design transfer.
The key to our product development expertise is our unique company structure within the Mack Group. Mack Group is a 100+-year-old manufacturing company operating 11 facilities in the U.S. and Mexico. These facilities include more than 1.5 million square feet of space devoted to contract manufacturing high-level assemblies and complex electronics. This means that when you partner with Synectic, you partner with the entire Mack Group. Together, we can reduce the time to bring your new product to market by 20%.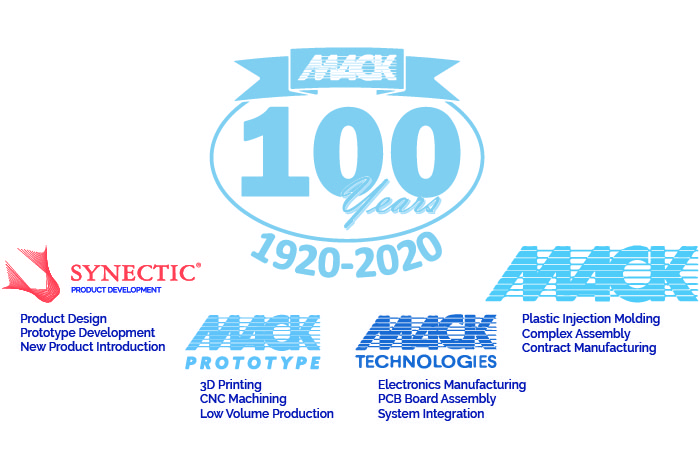 PRODUCT DEVELOPMENT SERVICES TAILORED TO YOU
Unlike other product design firms that only offer partial services, Synectic's advantage is our concept to production business model. 
WHY SYNECTIC AND THE MACK GROUP
The Synectic/Mack merger has allowed two highly regarded entities to combine experience to become more than the individual. The net result is a stronger and more productive product development company. Here is what you can expect from Synectic and the Mack Group:
Better quality for less. To minimize your cost, the transition from product development to manufacturing must be as seamless as possible. We have refined this process and pride ourselves on having assembled a small, highly experienced engineering team, working within streamlined procedures and minimal red tape.
Consistent communication. Open communication between all parties involved in your product development project is vital. Synectic Product Development and the Mack Group make regular communication a core tenet. We mandate techniques to ensure consistent communication throughout your project, reducing misunderstanding and confusion.
People first mindset. A satisfied customer is the ultimate measure of success. Both Synectic Product Development and the Mack Group have histories of long-standing and repeat customers, giving testament to work well done and customer satisfaction. You can expect from us a commitment to meet all project goals and requirements throughout the product development and manufacturing process.
For more information on how the Mack Group can improve your product development project, visit our sister companies.
EXTENSIVE PRODUCT DEVELOPMENT EXPERIENCE
Synectic is a product development company with 40 years of experience designing, building, and manufacturing products. While our origins are rooted in developing medical devices, we have worked in industries from commercial products to capital equipment to military and defense. Here is a small sampling of the products we have brought to market.
Cervical Plate
Developed a multi-step cervical plate that prevents both fixed and variable screws from backing out regardless of the trajectory angle.​
Cell Processor
Developed cell processing capital equipment that utilizes novel technology for use in cell and gene therapy manufacturing.
Surgical Robot
Developed a family of single use disposable end effectors, that can grasp, seal, cut, and dissect during robotic surgery.
Hemodialysis Kit
Developed a catheter repair kit for replacing cracked or broken female Luer lock connections on patient's existing catheters.
Vessel Sealer
Developed a complete vessel sealing system, comprised of a vessel sealer and surgical generator for use in medical electrosurgery.
Vitrectomy System
Redesigned a device that injects a drug in combination with the vitrectomy, through a single opening in the eye.
Pediatric Stapler
Developed a 5mm stapler, using the current standard 10mm staple, for use in pediatric patients.
Surgical Stapler
Developed a handheld surgical stapler for fixating mesh, during inguinal hernia repair, using the Lichtenstein method.
Laparoscopic Device
Developed a dynamic laparoscopic retracting device that could retract the liver and remove the gallbladder.