Featured Medical Device Designs
Have a question about our medical device design services?
Discover more about medical device design
Life Saving Medical Devices
This is where Synectic excels. For almost 40 years, medical device design has been the core focus of our business model. As industry leaders, we have proven time and time again that we are the experts in getting a reliable medical device to market. With our highly knowledgeable team of engineers, who have decades worth of medical device consulting experience, we are able to overcome even the most daunting design challenges. When designing for the healthcare industry we tailor our product development process to develop products that are reliable, safe, and effective. Our proprietary quality documentation system is a cornerstone of our business following ISO 13485 quality standards. With our NPI area to de-risk your device, you can feel confident that your device will quickly pass FDA inspection, getting your device into the hands of those whose lives depend on it.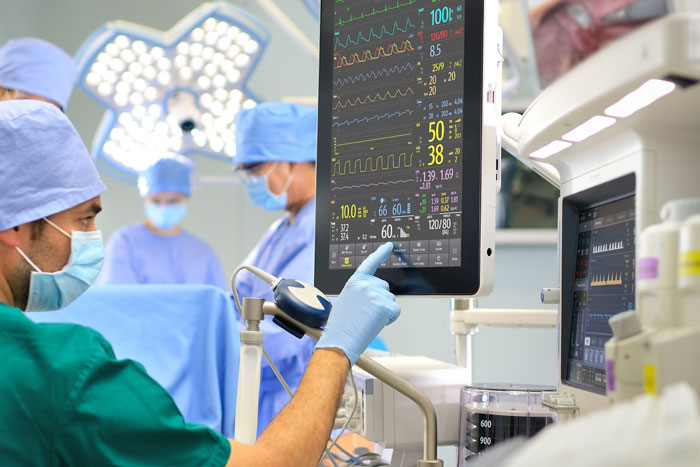 Industry focused design process
Synectic knows how daunting getting your medical device to market can be and we are here to help. Our medical device consultants are available to walk you through navigating the patent landscape, gaining FDA, UL, and ADA approval, clinician feedback/VOC studies, in-vitro and in-vivo design testing, and the myriad of quality documentation and testing necessary for manufacturing. Best of all, our vertical integration means your design remains in-house during every step of the process, from concept development, to medical device prototyping, to new product introduction, and all the way to contract manufacturing.
Medical device design know-how
From capital equipment to handheld medical devices, Synectic has designed it all. We specialize in:
class I, class II, and class III medical devices
cardiovascular
orthopedic
gynecological
pediatrics
dental
laboratory equipment
handheld medical devices
capital equipment
wearable medical devices
smart devices
implantable devices
balloon catheters and stents
and more...