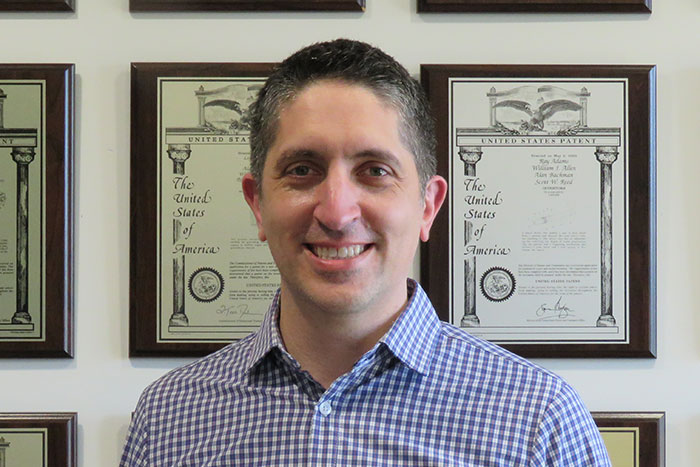 Tim Stango is the latest addition to Synectic's team of talented design and development engineers. Join us, as we sit down with Tim to find out a little bit about him and why he chose to join our team at Synectic. 
Hello Tim, thank you so much for speaking with me and allowing our customers to get to know you better. First, let's talk a little bit about your background and what got you into mechanical engineering.
TS: As a kid, my interest always involved either building or fixing something. Whether it was helping my Dad around the house or just tinkering with anything that had wheels, I always found it most satisfying to either improve something or find a new solution to a problem. In college, I spent my first few semesters as a student at UConn Waterbury with an undeclared major. It wasn't until a friend recommended the hands-on approach to learning at CCSU's School of Technology that I realized that engineering was where I belonged. After earning a degree in Mechanical Engineering, CCSU helped me to get an internship at nearby Pratt & Whitney where I eventually was offered a full-time position. Several years later, I transitioned into medical device design with the added benefit of helping others.
Out of all the product development companies out there that specialize in medical device design, what made you decide to come and work at Synectic?
TS: Synectic appealed to me because of the culture that Adam Lehman and Jeff Ransden have created. Having worked so many years for large companies, it was refreshing to meet such a talented and dynamic team of people that have the collective experience to achieve anything. Also, the interview process was very thorough and extensive which tells me that this team cares about finding the right people.
What do you do at Synectic as a Senior Design Engineer? Do you specialize in any branch of engineering?
TS: As a Senior Design Engineer at Synectic, my role is very broad which allows me to continuously learn and improve. Project management, designing, testing, and assembling prototypes are just a few of the many things I do at Synectic. My strength is definitely in Mechanical Engineering.  Being visual and having a good imagination is key to dreaming up creative solutions to the most difficult problems.
What quality or ability do you bring that can help our customers, especially when it comes to medical device design?
TS: The value that I bring to Synectic is my creativity and my ability to build strong working relationships. Over the years, I've learned that the relationships you form with suppliers, clients, and colleagues are just as important as the experience that you gain in your field of expertise.  Making those connections and achieving a goal for our clients can only happen with teamwork and determination.
Is there anything else about yourself you would like to add? What are some of your hobbies when not at work? 
TS: I used to have more hobbies but at this stage in my life, the line between hobbies and chores has become blurred…that leaves mountain biking.   
Ok Tim, before we go, we've got to know what's your favorite type of pizza? 
TS: New Haven style apizza is my favorite.  A thin and crispy crust is the only way to go.  Seriously, anything else is not pizza.
About Synectic Product Development: Synectic Product Development is an ISO 13485 certified, full-scale product development company. Vertically integrated within the Mack Group, our capabilities allow us to take your design from concept to production. With over 40 years of experience in design, development, and manufacturing, we strive for ingenuity, cost-effectiveness, and aesthetics in our designs.  Learn more about our product design services and see how we can help your next project.