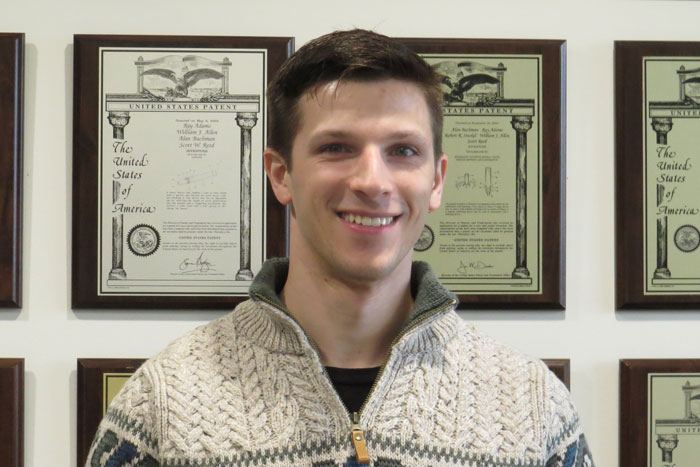 Tyler Luneski is the latest addition to Synectic's team of talented design and development engineers. Join us, as we sit down with Tyler to find out a little bit about him and why he chose to join our team at Synectic.
Hello Tyler, thank you so much for speaking with me and allowing our customers to get to know you better. First, let's talk about your background and what got you into mechanical engineering.
TL: I attended a technical high school where my trade was Computer Aided Drafting and Design. My shop teacher suggested I look into pursuing mechanical engineering, and the rest is history. My previous engineering experience includes designing custom liquid filling and packaging capital machinery for the pharmaceutical industry.
What do you do at Synectic as a Senior Design Engineer? Do you specialize in any branch of engineering?
TL: I am a design engineer at Synectic. Currently, I am in a supporting role, aiding my fellow engineers with their projects while I learn Synectic's engineering standards. As for engineering specialties, I've branched out into machine design and automation as well as design for pharma and biomedical. I do have a growing interest in metallurgy and material science. Aside, from a primordial fascination with fire and metals, I also enjoy learning about new technologies.
What attracted you to begin working at Synectic? What quality or ability do you bring that can help our customers, especially when it comes to product design?
TL: The efficient team dynamic drew me to Synectic. I liked the idea of being able to take ownership of my projects, bounce back ideas rapidly, and make decisions independent of a larger corporate hierarchy. I've accumulated a fair bit of knowledge of materials for use in pharma and biomedical in terms of biocompatibility, chemical resistance, and compatibility with sterilization methods. This helps me take a proactive approach in the design for manufacturing and validation steps of a project by thinking about it during the initial design steps.
When you aren't at work what do you like to spend your time doing?
TL: I like moving around and being active. I'm also a board game fiend. Settlers of Catan and tabletop role-play games like Dungeons and Dragons are some of my favorites.
Of course, before we end, we need to ask: what's your favorite type of pizza?
TL: I like Greek-style broccoli eggplant pizza. I grew up next to Zanis, and theirs is the pizza I compare all others to.
About Synectic Product Development: Synectic Product Development is an ISO 13485 certified, full-scale product development company. Vertically integrated within the Mack Group, our capabilities allow us to take your design from concept to production. With over 40 years of experience in design, development, and manufacturing, we strive for ingenuity, cost-effectiveness, and aesthetics in our designs.  Learn more about our product design services and see how we can help your next project.