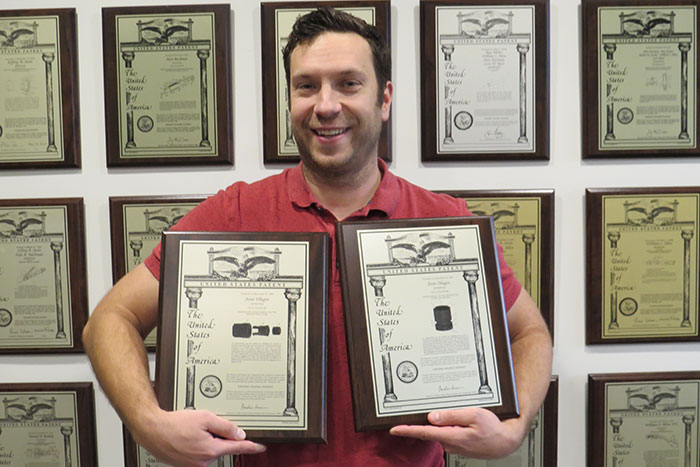 Synectic is excited to announce that one of our Senior Engineers, Jesse Dlugos, was recently awarded two patents, the first in his engineering career. His designs for antimicrobial port caps took over three years within the patent process before final approval. We had a chance to speak to Jesse to learn more about his engineering career and this wonderful achievement. 
Hello Jesse, this is an impressive achievement that not all engineers can accomplish during their careers. Can you tell us a little bit more about the patents and what challenges you had to overcome during the design?
JD: I was tasked with developing a design for a single-use cap for IVs that prevents a clinician from reinstalling after removal. The caps currently on the market are made to be single-use, but there is nothing in the design that prevents them from being reused. Reusing caps can introduce bacteria into the IV lines leading to serious infections in the patient. I came up with two different designs that would render the cap useless upon removal. The first design uses a ratcheting lockout that destroys the cap when removed. The second design uses a set of fingers that splay out upon removal making reinstallation impossible. 
What attracted you to a career in engineering and what's your engineering background? 
JD: I grew up with a full workshop at home the I loved to tinker in and I developed a curiosity about mechanical devices and how things work. When I grew older, that curiosity grew into a passion for making designs. I pursued a Bachelor of Mechanical Engineering at UConn and my first job out of college was at Pratt & Whitney. I love that engineering gives me the ability to have a hands-on career that gives me the freedom to machine and fabricate my own parts. 
You've been at Synectic as a Senior Design Engineer for almost 6 years. What do you like about working here? 
JD: As a Senior Design Engineer at Synectic, my work covers all the phases of product development. This includes concept generation, prototyping, and mechanical design. I also specialize in kinematics, finite element analysis, as well as prototype fabrication and testing. What I like the most is that my work is hands-on and I get free range to bring forward my designs from the initial concept all the way to a working model. This freedom gives me the ability to quickly iterate designs and get results fast. 
When you aren't at work what do you like to spend your time doing? 
JD: When I'm at home I like working on my 1954 Chevy pickup lowrider.  I am also an accomplished bladesmith and have made many knives in my home smithy. My other hobbies include saltwater fishing and mountain biking. 
Of course, before we end, we need to ask the most important question: what's your favorite type of pizza? 
JD: My favorite style of pizza is New Haven Style. I prefer a good plain pie. There's no need for toppings when you can do the basics well. Around here, you can find me eating at Pepe's, Modern, and Zuppardi's. 
About Synectic Product Development: Synectic Product Development is an ISO 13485 certified, full-scale product development company. Vertically integrated within the Mack Group, our capabilities allow us to take your design from concept to production. With over 40 years of experience in design, development, and manufacturing, we strive for ingenuity, cost-effectiveness, and aesthetics in our designs.  Learn more about our product design services and see how we can help your next project.