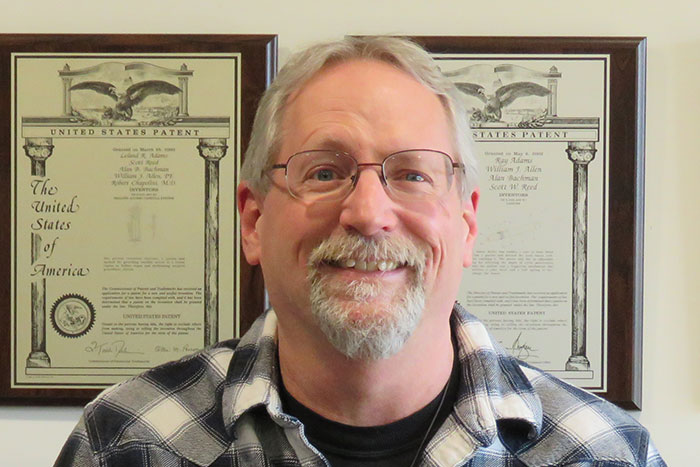 Bob Percy recently joined Synectic's team of talented design and development engineers. Join us, as we sit down with Bob to find out a little bit about him and why he chose to join our team at Synectic.
Hello Bob, thank you for taking the time to speak with me today, we're all eager to get to know you better. Let's get started by talking about your background in engineering. 
BP: I have been tinkering with and building mechanical things my entire life and have always been very interested in the science and mechanics of things. In college, I attended SUNY Purchase but finished out a degree with the Air Force through the distance learning program. I started as a machinist and followed my path into the quality/inspection section of companies all of which led me to engineering and R&D development. Throughout my career, I've worked in several places in various industries, from RF connectors to battery manufacturing, high-speed production mail sorting, railroad servicing equipment (light rail and freight), aircraft manufacturing, and several companies in the medical industry.
With your varied background, you could have worked anywhere, what made you decide to come and work at Synectic?
BP: I found Synectic has that perfect blend of organization and development talent with that small company family feel. Anyone here is available to answer a question or offer a review of an idea without the heaviness of a large corporate entity. Synectic has an amazing blend of talents and a unique environment more companies should try and achieve. I feel very fortunate to be a part of this team.
Your role at Synectic is a Senior Design Engineer. What does that entail?
BP: As a Senior Design Engineer at Synectic, my responsibilities cover all the phases of product development from initial concept all the way to prototype and initial pilot production depending on the clients' needs. This can span the gamut of 3D design, to the creation of prototypes, and even assist the new product introduction team to develop manufacturing solutions.
What quality or ability do you bring that can help our customers? Is there any branch of engineering you specialize in? 
BP:  I feel I have a unique blend of skills to create a workable solution for our clients. I can take an idea from concept thru to the finished product, always keeping the clients' needs in mind. Using my diverse manufacturing and quality backgrounds I design components (DFM) and assemblies (DFA) that are both manufacturable and able to be inspected. Since I am a mechanical engineer, I tend to focus on the mechanics of a design but I have also been trained as a machinist so I will always jump in to create those components in our machine shop area. I am also good at building and maintaining relationships with suppliers that help benefit the development of a project. My favorite part of engineering is seeing the idea become a physical device/product.
Is there anything else about yourself you would like to add? What are some of your hobbies when not at work? 
BP: I am a retired Veteran of both the US Navy and Air Force as an aircraft electro-environmental mechanic on several airframes and many overseas deployments including Iraqi Freedom. I do enjoy the outdoors including hiking, kayaking, and biking.  I have an avid interest in aviation, reading about them, visiting museums, and I even rebuilt and flew an airplane from a box of parts! I'm an avid motorcyclist exploring the back roads of the Eastcoast and can also be found wrenching on my motorcycle or any of my automobiles. I'm a big fan of the Marvel and Star Wars universes.
Ok Bob, before we end, the most important question: what's your favorite type of pizza? 
BP: Well, I have several. Bacon and onion is always an option. I did find Hawaiian as they made it in Hawaii very tasty (fresh pineapple with pulled pork) but my new favorite is the portuguesa at Brick House Pizza!
About Synectic Product Development: Synectic Product Development is an ISO 13485 certified, full-scale product development company. Vertically integrated within the Mack Group, our capabilities allow us to take your design from concept to production. With over 40 years of experience in design, development, and manufacturing, we strive for ingenuity, cost-effectiveness, and aesthetics in our designs.  Learn more about our product design services and see how we can help your next project.