A team of engineers and doctors at the University of Michigan have developed a wearable biopsy device that can continuously capture live cancer cells directly from a patient's blood. Traditional biopsy methods involve blood samples sizes of no more than a tablespoon which can produce false results even in patient's with a confirmed cancer diagnosis. The new device is capable of trapping 3.5 times as many cancer cells per milliliter of blood.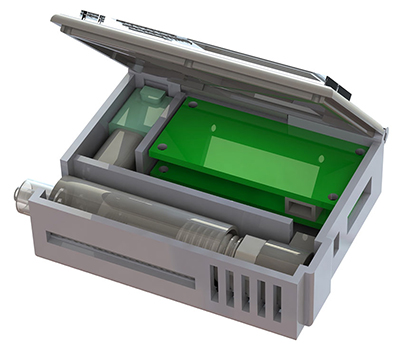 "The most challenging parts were integrating all of the components into a single device and then ensuring that the blood would not clot, that the cells would not clog up the chip, and that the entire device is completely sterile," says Tae Hyun Kim, Ph.D., who earned his doctorate in electrical engineering in the Nagrath Lab at the University of Michigan and is now a postdoctoral scholar at the California Institute of Technology.
From the University of Michigan article: "They developed protocols for mixing the blood with heparin, a drug that prevents clotting, and sterilization methods that killed bacteria without harming the cell-targeting immune markers, or antibodies, on the chip. Kim also packaged some of the smallest medical-grade pumps in a 3D-printed box with the electronics and the cancer-cell-capturing chip.
The chip itself is a new twist on one of the highest-capture-rate devices from Nagrath's lab. It uses the nanomaterial graphene oxide to create dense forests of antibody-tipped molecular chains, enabling it to trap more than 80 percent of the cancer cells in whole blood that flows across it. The chip can also be used to grow the captured cancer cells, producing larger samples for further analysis."
Read more about the wearable biopsy device at the University of Michigan.