From people in their homes to small businesses to major manufacturers, there's a huge effort to make masks to protect against the coronavirus. Our Olivia Lyons shows you how one newly designed mask is being put to the test in a local hospital.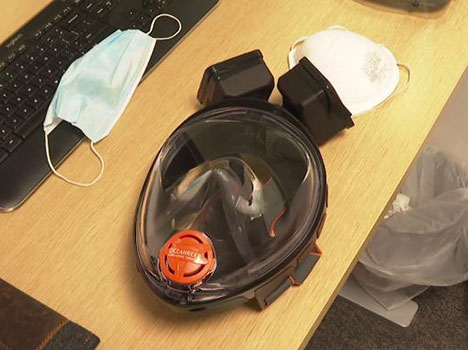 The Southwestern Vermont Medical Center has teamed up with Mack Molding to take a deep dive into creating new masks for hospital workers.
"It was a four-week push to get as many masks up to Vermont as we could," said Adam Lehman of Synectic.
When the Southwestern Vermont Medical Center realized they might not have enough PPE, they reached out to Mack Molding in Arlington to see if they could come up with something to help out.
"The hospital had really called us and said, 'Hey, at this point in time we are running out of masks and we need masks in a couple of weeks. We need something we can give to our employees to protect them,'" Lehman said.
That was in the last week of March. Since then, Synectic, a company owned by Mack Molding, has produced about 500 masks, 300 of which are at SVMC. The base of the newly designed mask was originally designed for snorkeling. But where the snorkel would usually come out, there are two filters to keep out the virus and bacteria.
Read more about how Synectic and SVMC designed a new mask from a snorkeling mask at wcax.
About Synectic Product Development: Synectic Product Development is an ISO 13485 certified, full-scale product development company. Vertically integrated within the Mack Group, our capabilities allow us to take your design from concept to production. With over 40 years of experience in design, development, and manufacturing, we strive for ingenuity, cost-effectiveness, and aesthetics in our designs.  Learn more about our medical device design services and see how we can help your next project.