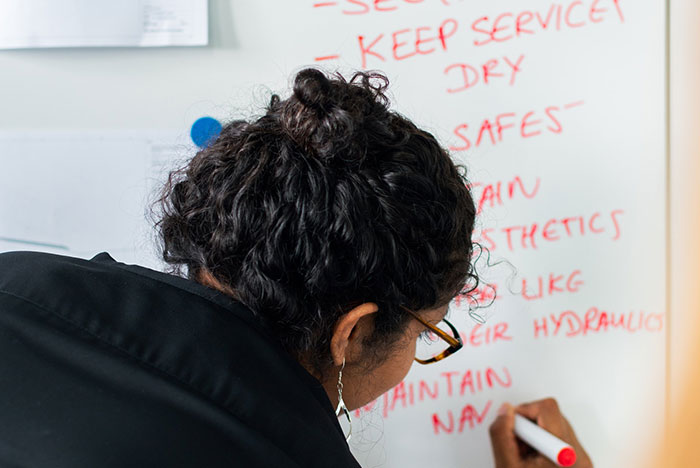 Once you have selected a product development company, you may be asking yourself what the next step in the product development process is. While each company approaches product design differently, there are some universal standards to follow when starting product development. Here are the five steps you need to take when setting up your product development project.
1. Non-disclosure agreement
Any seasoned product development company will ensure that you have some form of a non-disclosure agreement (NDA) in place. Irrespective of the language contained in the document, it should protect what you share with the company and what they share with you. A two-way agreement, one in which either party can transfer shared information, ensures that you can speak freely about all propriety material, processes, or findings through all project stages. While this article does not substitute sound legal counsel, you need to protect your proprietary knowledge, and you should expect any engineering company to want the same protections. When you contact us, the very first thing we send you is an NDA. We want you to feel comfortable discussing your ideas with us from the start because, without an adequate flow of information, progress cannot happen.
The next step will be to create a formal proposal of work. This process typically starts with several meetings to get a clear and mutual understanding of your project and business goals. The more detail you can share, the better. This includes any information collected during your initial conceptualization (testing, prototypes, sketches, etc.), market or consumer research, clinical work if a medical device, white papers, intellectual property, and customer input/voice of customer work. Given all of this information, the product design company should generate a written proposal for a scope of work containing the following:
Verbiage that lets you know they understand your wants
Specific list and description of deliverables
Timeline of completion
The actual or estimated cost of the work.
In our experience, it is not uncommon for it to take several iterations of a proposal to arrive at something that is mutually understood and agreed upon. Do not be afraid to ask questions or raise concerns. Feedback is a gift, and any company that sends you signals otherwise may be problematic. A company that is too loose or too rigid at this stage may be setting the project up for failure. Are they flexible and knowledgeable? Those are the hallmarks of success for the proposal process.
Directly following the acceptance of the proposal is a contract. Generally based upon the proposal the contract lays out payment terms, milestones, indemnifications, terms and conditions, termination clauses, and any other stipulations to define a business agreement between the two parties.
Next, we create a design history file (DHF). A DHF is a document that tracks the what and why behind the design. It documents all the supporting information to show how the product design moved from beginning to end. The DHF is critical once you get past the initial design and into new product introduction, as it stores all the quality documentation, test results, and protocols. If you develop a medical device, the FDA will want to see your complete DHF. Synectic maintains our design history files electronically in a vault-type database. This practice is compliant with good design processes and keeps the documents that drive development objectives controlled and always available to the team. Doing this from the beginning ensures that good design practices are followed and supports regulatory submissions later.
The next activity necessary for the design process is to create a Product Development Specification (also referred to as a product design specification or PDS). The PDS describes in writing what problem your product will solve. Without a well-defined PDS, you cannot begin designing as you have no direction forward. The specification is generated by interviewing customers, testing competitive designs, and researching industry standards to define unknowns. While you may not be able to define everything at this time, it is important to input as much as you can. You can start by asking yourself the following questions:
What are the current practices around your invention?
Where and how will it be sold?
What user inputs should you consider?
What regulatory bodies do you need to pass, like the FDA, UL, or CE?
What market information needs to be defined?
What competitive products are in the mix?
What price and how many units do you need to make it profitable?
What kinds/types of specialized staffing will we need to solve the challenges?
How does the patent landscape or intellectual property position influence the design?
Once you gather all the information, you can begin writing your product specification. For an in-depth look at writing a product specification, including a step-by-step workbook, read our white paper on How to Write a Product Design Specification (PDS).
After completing these steps, the objective and a plan of attack are clear. The market needs, concrete design objectives, development focus, and technical challenges are defined, aligning both the engineering team and the client. Regardless of how you execute setting up your project, it should include getting any legal documents in order, reviewing the requirements, and agreeing on a way forward. Without these parameters, the project cannot move forward clearly and concisely. Then the project can progress to the next phase: product design.
Ready to start your project?
Our expert engineers have over 40 years of product design experience. See how we can help.
About Synectic Product Development: Synectic Product Development is an ISO 13485 certified, full-scale product development company. Vertically integrated within the Mack Group, our capabilities allow us to take your design from concept to production. With over 40 years of experience in design, development, and manufacturing, we strive for ingenuity, cost-effectiveness, and aesthetics in our designs.  Learn more about our product design services and see how we can help your next project.